Brazilian Research and Studies Center
The Brazilian Studies and Research Center (BRaS) is a non-profit and independent network research center based in Würzburg, Germany. The BRaS produces and disseminates relevant social-science research with a focus on Brazil. The center's core mission is to promote throughout the world scientific research on Brazil with a focus on its political, social, economic, and cultural development. Moreover, the BRaS are committed to the principle of science with and for society.
Boletim Lua Nova and BraS have established a partnership agreement for the publication and promotion of academic texts. The agreement will expand the content offered by both institutions. BraS editorial staff will dedicate an exclusive section of its website to Lua Nova texts. The texts of this section will also be indexed in the German Library by the ISSN 2701-4924 identifier.
Read More

Lucé Rodrigues Souza
The globalization process has created a market opportunity to expand service businesses and attend diverse niche markets. The development of technology, by its turn, democratized access to knowledge and digital communication worldwide. Through online platforms, the final customer has access to the newest services and products worldwide, and, therefore, market trends and technologies are changing faster. These factors combined have been challenging the business model to create innovative strategies to meet customers' needs and stand out among competitors.

Luisa Turbino, Anna Paula Bennech and Matheus Hebling
Dr. David Meek (Assistant Professor of Global Studies, University of Oregon) is an environmental anthropologist, critical geographer, and food systems education scholar with area specializations in Brazil and India. Professor Meek theoretically grounds his research in a synthesis of political ecology, critical pedagogy, and agrarian studies. His interests include sustainable agriculture, social movements, and environmental education.
Opportunities and scholarships
Our journal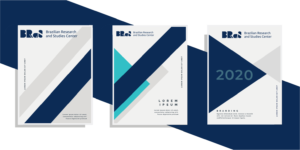 The BRaS network membership is open to scholars, researchers, students, and non-academic people interested in the social, economic, and cultural developments in Brazil. As a part of our Network, you will be included in our database, receive our newsletter and updates about our research
The BRaS Academic Committee periodically opens calls for membership according to BRaS internal needs. However, we gladly welcome proposals for those interested in participating in BRaS internal affairs administrative work, debates, and deliberation within the general assembly
The Brazilian Research and Studies Blog (BRaS Blog) publishers opinion articles, essays, research notes, or summaries from a multitude of topics integrating Human, Social, and applied Social Sciences focused on Brazil. We welcome content about political, social, economic, and cultural developments in Brazil.