by Lucas Eskinazi*
Reviewed and edited by Anna Paula Bennech and Giovanna Imbernon
Organized by Elcio Basilio
"Aloysio's look had the freedom of full attention, the full life, the intimate life lived. It was enough for him to see me looking and working the action to intuit and recognize my point of view" – Andrea Tonacci[1]
"Big cinema doesn't attract me anymore" –  Diaries, David Perlov
The Brazilian filmmaker Aloysio Raulino was born in Rio de Janeiro in 1947 and moved to São Paulo during his childhood, where he spent the rest of his life. Regarding his poetics, Raulino stands out in three aspects: as a director of photography, having worked with many renowned filmmakers such as Andrea Tonacci, João Batista de Andrade, Paulo César Saraceni, Kiko Goifman, Paulo Sacramento, among others; as a professor at the University of São Paulo, having taught at the Cinema Department, from where he earlier graduated; and, especially as a director, whose filmography includes short, medium and feature films. Since his untimely death in 2013, his work has been largely recognized and the subject of exhibitions and academic articles. Also, Raulino's films have been restored and are available in high quality in an official channel dedicated to his work on Youtube.
Despite having productions as both director and director of photography during his entire life, our goal here is to take a look at his early moments, dating back to the beginning of his career, comprising the following films from the '70s as a director:  Lacrimosa, Drag the colorful banner, Shall we have a childhood?, Nova Bahia District, Tarumã, The Tiger and the Gazelle and Port of Santos. These seven short films were made with more or less the same type of production and poetic thinking that involves the concept of «portrait» in cinema, but has also been thought of as the representation of the people in a beautiful doctoral thesis (Guimarães, 2019). Before diving into it, it is important to link Raulino's work with other filmmakers who took similar paths by avoiding preconceived genres, such as Documentary and Fiction, and, especially, denying the Big Cinema's logic.
We have no intention of listing a large number of filmmakers, although it is worth placing Raulino's work among other films that have fought for a type of cinema that can be classified as a documentary, essay, or experimental.
Our discussion is not taxonomic; but after watching films like The Tiger and the Gazelle or Port of Santos, it is hard not to associate the free camera style with films like The Wonder Ring by Stan Brakhage, or Reminiscences of a Journey to Lithuania by Jonas Mekas. Raulino's work, especially his production during this decade, can be compared with contemplative films such as Ulysse by Agnes Varda or the Diaries of the 70s by David Perlov, a Brazilian-Israeli filmmaker.
About Aloysio Raulino's work, it is important to highlight the way the filmmaker places himself in the streets, establishing relations with people who enter the film throughout a master shot, but, above all, through the filmed portrait. As the Brazilian filmmaker's work has a remarkable presence of the camera, with an assumed camera body – a strong first-person speech like the filmmakers mentioned above –, Raulino's works distinguish themselves once they do not aim at an intimate reflection, but a connection with the other, the one who is filmed instead.
We should also bring to light the presence of other artists and writers' works brought into Raulino's films: in The Tiger and the Gazelle, using intertitles and voiceover, he quotes excerpts from Franz Fanon, Aimé Césaire, and Lima Barreto's writings. In the soundtrack, the film ends with a song by Milton Nascimento, not before having heard a batucada and Haydn, a black woman, singing the popular samba Salve a Princesa Isabel and the Independence Anthem.
His attitude reminds us of modern photographers who go out on the streets to capture glimpses of the city and its inhabitants. It is no wonder that in Drag the colorful banner from 1970, co-directed by Luna Alkalay, the duo uses photographs, photo clippings, filmed photos, and not to mention the several footages excerpts from a carnival parade in downtown São Paulo, on Av. São João, filmed in 16mm. To get this effect, Raulino had no problem mixing different types of materiality, exploring a hybrid cinematographic language. He used long and short-takes, color, and B&W rolls in the same film, shots with successive wide-angle and telephoto lenses, newspaper clipping frames, besides the original soundtrack composed for the music interspersed with phrases by writers and philosophers.
Nowadays, having us all easy access to a camera and being able to do some kind of self-representation, it is imperative to think about the place of the artist, the filmmaker, and the photographer when producing images of alterity: a person passing by on the street or bodies in the city. Perhaps, Raulino's work can be not only a model but also a study case in which we can find a deep relationship built by the image in the moment of the photographic act. In a greater discussion, we could think about the terms for using the image, e.g., when children appear in close-ups in some portraits. However, this discussion needs to be deepened, and we must remember that Raulino's films spent many years having little or no circulation.
In my opinion, it is curious to register that in the dozens of portraits made in the aforementioned films, there is an approximation between the photographer and the person photographed. In technical terms, we are talking about the use of wide-angle lenses, given their optical characteristics, such as distortion and distance between bodies and objects. From an ethical point of view, Raulino looked with dignity to people who, in turn, returned their look to the camera. It could be a way to multiply Raulino's point of view. Jean-Claude Bernardet, the renowned professor and critic of Brazilian cinema, points out in Lacrimosa (1970) a rupture with the documentary in Brazil. In his opinion, Raulino mobilizes the issue of time in the duration of the internal rhythm of the shots (Bernardet, 2013). One must look at them; and not by chance, his portraits last. They make us see things and give room to people to express what they want to show in that record, in that encounter.
Thinking about Aloysio Raulino's cinema and, more precisely, his films from the 70s, when the director made this set of 7 short films with almost no money and with just a few participants, Raulino accumulates several roles in filmmaking and this fact seems to have great relevance for a period like ours: of decreasing investments in culture in Brazil. Since the arrival of Bolsonaro's government, we have witnessed a true project of deconstruction of what had been carried out as public policy in several areas. We could see the same in culture with the extinction of the Ministry of Culture, the cinematheque shut down, and the fundings from Ancine (Brazilian Film Agency) cut.
Speaking very highly of Raulino's no-budget films does not mean that we should resign ourselves to producing small films. On the contrary, we always need to fight for and demand investments in national cinema. Raulino produced his films in the seventies, during the military dictatorship and the strict censorship, not to mention the lack of investments. We can look at these films as a political act, an extremely powerful set of films about the reality of that moment in national history, sometimes as a way of social denunciation, like in Shall we have Childhood?, Tarumã and Lacrimosa, and bringing into play people's subjectivities in others, like in The Tiger and the Gazelle, Port of Santos, Nova Bahia District.
We must learn from Raulino, who was a digital enthusiast – one of the first filmmakers to accept and realize the power of the medium – and who believed that from the moment we can press the rec button on, using whatever it is, we can make a film with it.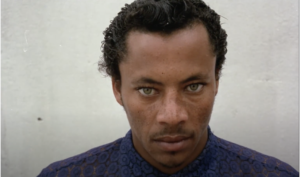 [1] Tonacci, Andrea. 2013. "A Aloysio Raulino" In ForumDoc.BH.2013 Catalog. Belo Horizonte.
References
Bernardet, Jean-Claude. 2013. "A discreta revolução de Aloysio Raulino" In ForumDoc.BH 2013 Catalog.Belo Horizonte.
Gomes, Paulo Emílio Sales. 2001. Cinema: Trajetória no Subdesenvolvimento. Rio de Janeiro: Editora Paz & Terra.
Guimarães, Victor. 2019. Inventários da margem, figuras do povo : Aloysio Raulino e o cinema latino-americano. UFMG.
Vale, Glaura (org.). 2013. ForumDoc.BH 2013 Catalog.Belo Horizonte.
* Lucas Eskinazi is a Doctoral Student at the Graduate Program in Visual Poetics of the School of Communications and Arts (ECA) of the University of São Paulo (USP). He holds an M.A. of the same program, both with funding of CAPES. His research topics involve otherness and representation, handmade cinema, photographic narratives. He is also a photographer and filmmaker.