by Julia Maia Goldani and Anna Paula Bennech
Ph.D. candidate in Law and Development at Fundação Getútlio Vargas (Brazil) and Ph.D. candidate in Political Science at Würzburg University (Germany)
Reviewed by Matheus Lucas Hebling
When we look back on 2020, the first fact that comes to mind is the COVID-19 pandemic and its harsh effects on public health and the world economy. However, suppose we reflect a bit longer. In that case, another event of global relevance stands out: the killing of the African-American citizen George Floyd during a police arrest in Minneapolis, Minnesota (the United States of America). 
In May 2020, Floyd's brutal murder by asphyxiation at white police officers' hands sparked an uproar of street protests against institutional racism and police brutality. Despite social distancing recommendations, over 140 cities in the US held demonstrations. Support from social movements in other countries followed suit, along with intense, international media coverage of the protests and the investigation held against the Minneapolis police force (
Taylor, 2021
). 
Parallel to the real-life protests, black squares and the hashtags #Blacklivesmatter and #Blackouttuesday dominated social media feeds for weeks. Some might say it seemed like the whole world "could not breathe." A broad debate arose about how big players [or stakeholders, if you prefer] could go beyond social media protests and transform them into financial support for anti-racist actions and internal institutional changes, for instance (
Coascarelli, 2020
). The watchword here is 
structural racism
 because "racism is indeed institutional and structured," which demands fundamental responses "to initiate the process of eliminating it" (
Al Jazeera English [Interviewing Angela Davis], 2020, 2:21
). 
Around six months after these events, on November 19th, another black citizen was murdered in public by security agents, this time in Porto Alegre, the capital of Rio Grande do Sul, Brazil's southernmost state. The victim was João Alberto Silveira Freitas, known to his friends and family by the commonplace Brazilian nickname "Beto," equivalent to Bill or so in English. The 40-year-old autonomous construction worker was killed by two private guards – one of which was an off-duty military police officer – in a Carrefour supermarket, where security agents restrained him after an alleged confrontation with a cashier clerk. She reported that Beto "seemed furious about something," besides "showing signs of drunkenness and not wearing a mask" (
G1 RS, 2020, our translation
). Much like Floyd, Beto was inadvertently asphyxiated by the guards. In both cases, they were held down, and the guards did not respond to their asking for help or onlookers' alerts.  
As a response, Porto Alegre's black movement's leadership figures organized protests in front of the Carrefour, and a march in support was held in São Paulo, the country's largest city (
PODER360, 2020
). Nevertheless, it is undeniable that Beto's death received significantly less media coverage than Floyd's, even when we consider only national media outlets. Moreover, while there were widespread shows of solidarity from Brazilians in reaction to what happened in Minneapolis, Beto's very similar story seems to have failed to become a household reference in the country, despite hitting much closer to home. Why is that?
Although racial discrimination and violence are certainly worldwide issues, Brazil stands out in its tendency to naturalize the deaths of its black citizens. Public indignation seems to come in only small, quick outbursts, while more determined action is restricted to specific social milieus. 
Data from the 
Fórum Brasileiro de Segurança Pública
 (FBSP, Brazilian Forum for Public Security) shows that out of the country's 6.357 violent deaths resulting from police interventions in 2019, 79,1% had black persons as victims (
FBSP, 2020
). Amongst these are children like João Pedro Matos Pinto (14 years old), Agatha Félix (8), Kauê Ribeiro dos Santos (12), and Kauan Rosário (11), all shot by the police in the proximity of their homes during security operations in Rio's 
favelas 
between 2019 and early 2020 (
Franco, 2020
). Except in Agatha's case, their deaths did not even result in criminal lawsuits against the perpetrating officers. Studies have shown that, in cases of police violence against civilians, Brazilian prosecutors and judges usually acquiesce with the police force's internal disciplinary decisions, archive investigations, and drop charges (Neme, 2007, p. 91). The latent question is: what is different about these types of murders, so they are excluded from the access to due process? We should probably look at their ZIP code and ID pictures – neighborhood and skin color are most likely a good hint. 
As the Brazilian sociologist Jessé de Souza (2018, p. 219) points out, Brazil's historical formation has led its upper and middle classes to see its black population as sub-citizens unworthy of empathy, especially the marginalized, underprivileged sectors that interact more with law enforcement. Therefore, it makes these strata easy victims of what Achille Mbembé (2003, p. 11-12) calls 
necropolitics
: the use of state power to decide who gets to live and who gets to die. 
In necropolitics, although there is no 
explicit 
intention of exterminating certain groups from the body politic, a series of decisions from the sovereign power work to place specific populations in a social existence marked by precarious living conditions and constant possibilities of death (Mbembé, 2003, p. 25-29). This phenomenon seems to be the case of Brazil's marginalized black citizens. Through factors such as economic exclusion and institutional racism, they are placed in "death-worlds" (Mbembé, 2003, p. 40), in which they must constantly interact with their mortality and that of their close ones. Also, an automatic and often inaccurate association between interaction with law enforcement and involvement with criminality makes (black) deaths by police intervention justifiable to the rest of the population, a trend that is also fed into by Brazilian mainstream media.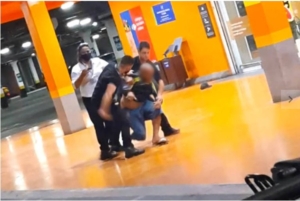 Source: Reproduction TV/Folha
In Beto's case, another critical element to consider is that one of
the security guards involved was a military police officer working off-duty to complement his income. This reality is ordinary in Brazil due to the low salaries and work conditions offered to the police (Muniz, Proença, 2007, p. 163). When we consider that a large portion of the country's patrolling officers is composed of black men from low-income backgrounds (Sinhoretto, Lima, 2015, p. 129), it becomes clear that the conservative arguments that "denouncing police racism means attacking officers who risk their lives daily" cannot be upheld in Brazil. The police officers, too, are victims of structural racism, and the majority (51,7%) of the agents who effectively lose their lives to lethal violence while on the job are black (FBSP, 2019). 
Most Brazilian families have a Beto around and the raw reality is that Beto dies every day in Brazil. More than that, many Betos are killed daily, and a veil of 
normality
 covers it. Beto is a symbol of the Brazilian structural racism guiding state politics and policies. 
As Elza Soares would sing: "the cheapest flesh on the market is the black flesh."
 And, despite black families being used to losing their relatives to police brutality and state necropolitics, their grief is not reduced by repetition, so that it eventually becomes a mandatory – and continuous – part of their lives. In Brazil, #Blacklivesmatter more and majorly when they are not Beto. 
More on
Al Jazeera English. (2020, June 25). Angela Davis: 'Racism is embedded in the fabric of this country" | The Bottom Line [Video]. YouTube. Available at: https://www.youtube.com/watch?v=9LiMOThNpxU. Accessed on: Jan. 2021. 
Coscarelli, J. (2020, June 2). #BlackoutTuesday: A Music Industry Protest Becomes a Social Media Moment. The New York Times. Available at: https://www.nytimes.com/2020/06/02/arts/music/what-blackout-tuesday.html. Accessed on: Jan. 2021. 
Fórum Brasileiro de Segurança Pública – FBSP. (2020). Anuário Brasileiro de Segurança Pública 2020. São Paulo: [FBSP]. Available at: https://forumseguranca.org.br/wp-content/uploads/2020/10/anuario-14-2020-v1-interativo.pdf. Acessed on: jan. 2021. 
Fórum Brasileiro de Segurança Pública – FBSP. (2019). Anuário Brasileiro de Segurança Pública 2019. São Paulo: [FBSP].
Franco, L. (2020, May 20). Caso João Pedro: quatro crianças foram mortas por operações policiais no Rio no último ano. BBC News Brasil em São Paulo. Available at: https://www.bbc.com/portuguese/geral-52731882. Accessed on: jan. 2021.
G1 RS. (2020, December 17). MP denuncia seis pessoas pela morte de João Alberto em supermercado de Porto Alegre. G1 Rio Grande do Sul. Available at: 
https://g1.globo.com/rs/rio-grande-do-sul/noticia/2020/12/17/mp-denuncia-seis-pessoas-pela-morte-de-joao-alberto-em-supermercado-de-porto-alegre.ghtml. Accessed on: jan. 2021. 
Mbembé, A. (2017). Necropolitics. Public Culture, 15(1), 11-40. Translated to English by Libby Meintjes. 
Muniz, J. D. O. & Proença Jr., D. (2007). Muita politicagem, pouca política os problemas da polícia são. Estudos Avançados, 21(61), 159-172.
Neme, C. (2007). Reforma en la policía: control de la violencia policial en São Paulo. URVIO-Revista Latinoamericana de Seguridad Ciudadana, (2), 85-98.
PODER360. (2020, November 20). Morte de Beto provoca onda de protestos antirracismo pelo Brasil. Poder 360. Available at: https://www.poder360.com.br/brasil/morte-de-joao-beto-provoca-onda-de-protestos-antirracismo-pelo-brasil/. Accessed on Jan. 27, 2021. 
Sinhoretto, J. & de Lima, R. S. (2015). Narrativa autoritária e pressões democráticas na segurança pública e no controle do crime. Contemporânea-Revista de Sociologia da UFSCar, 5(1), 119-141.
de Souza, J. (2018). Subcidadania brasileira: para entender o país além do jeitinho brasileiro. Rio de Janeiro: Leya. 
Taylor, D. B. (2021, January 6). George Floyd Protests: A Timeline. The New York Times. Available at: https://www.nytimes.com/article/george-floyd-protests-timeline.html. Accessed on: Jan. 27, 2021.
by Victor Hugo Barboza
Reviewed by Matheus Lucas Hebling
In 2002, Luiz Inácio Lula da Silva was elected President, after presenting in his campaign the fight against inequality through the Fome Zero Program as his main agenda. However, due to political, economic, and social differences within the Workers' Party, a coalition who advocated a structurally simpler program than Fome Zero was formed. This group defended a direct income transfer program, in which the receiving family would not necessarily have to spend on food, but on the needs of any source. Because of this, an intra-party conflict happened in 2003 between the "Food Security" coalition, which was an advocate of the Fome Zero Program, and the "Basic Income" coalition, to determine which type of public policy should remain a priority in the fight against hunger in Brazil.
Within the PT there was a coalition called "Basic Income", led by Cristovam Buarque, Eduardo Suplicy, and Patrus Ananias, which was against interventionist ideas, as they saw poverty as an individual problem, of training and education, having to be discussed in the context of various ministries and not only in the MESA. For this group, ending the social safety net or the minimum income would be a disregard for everything that was done and tested in previous years in the prefectures commanded by the Workers' Party in some cities of São Paulo and by Bolsa Escola, Auxílio Gás, and Food bag. At that moment, the internal dispute between ministers and between ministries for the organization of a food security program is clear. The objective was to remove the centralization of the MESA Fome Zero Program and generate a command divided between ministries, each acting in an area with a common objective, which was to end hunger in Brazil.
From a structural point of view, the program was criticized for requiring a great effort to coordinate MESA with states and cities. The structural design of the program was complex to be completed in a short period, with two structures: an emergency and a specific. The complex design generated a lack of clarity in its operation, acting in the area of ​​job and income generation, social and universal welfare, an incentive to family agriculture, intensification of agrarian reform, and not even the obligation to make specific policies, such as donations of basic food baskets emergency services, food quality security, expansion of school lunches, education for consumption and food education, the formation of a food bank, urban agriculture, popular restaurants, among other policies.
The proposal of the Bolsa Familia Program coalition formed within the PT represented a structural change to the program and made it less entangled. It did not have the obligation to operate in a complex structural system. The objective of the Bolsa Família Program was simpler and, from the point of view of its supporters, more viable and easier for the population to accept since it was just the transfer of income so that the vulnerable population could spend on food or any kind of need. Also, Bolsa Família included variable benefits in its structure. The first benefit was the basic benefit of R$ 50.00 per person; the second was the variable benefit, in which families in situations of poverty or extreme poverty and which are composed of pregnant mothers, nursing mothers and children, and adolescents from 0 to 15 years old could receive a benefit of R$ 35.00 per month, being able to each family accumulates up to three benefits per month, reaching R$ 105.00; the third was the so-called youth variable benefit, intended for families in situations of poverty or extreme poverty and whose adolescents are between 16 and 17 years old. The benefit amount was R$ 35.00 per month and each family can accumulate up to two benefits, that is, R$ 70.00; and o was the benefit for overcoming extreme poverty, which was intended for families in extreme poverty. Each family could receive one benefit per month. The amount of the benefit varies to the present day due to the calculation made from the income per person of the family and the benefit already received in the Bolsa Família Program.
The Fome Zero Program since its creation had its own ministry, the Extraordinary Ministry of Social Security and Fight Against Hunger, commanded by José Gaziano da Silva, had a set of state-interventionist ideas, aiming at economic regulation and directing spending through a Food Card. This more interventionist idea was understandable in the program's view, considering that it had as its main focus the reduction of social inequality, consequently raising economic growth and the increase of jobs and wages, making a correction of the so-called market failures. By making this intervention, the government intended to lower the price of food, generate a dynamic local economy and strengthen small producers through the purchase and sale of products from family farming (SILVA, 2004).
During the Administrative Reform carried out by the Lula government in 2003, it was decided to extinguish the Extraordinary Ministry of Food Security and Fight against Hunger, giving way to the Ministry of Social Development and Fight Against Hunger (MDS), which became responsible for national policies social development, food and nutrition security, social assistance and citizenship income in the country. MDS was responsible for coordinating, supervising, controlling, and evaluating the execution of income transfer programs, such as the recently created Bolsa Família (Tomazini, 2015). Thus, the creation of Bolsa Família as a public policy will refer to theorists Kingdon (2003), Hall (1993), Sabatier P. & Hank Jenkis Smith (1993), and Campbell (1998), as everything was analyzed as the way that elites operate within different public policy subsystems when there are an inter-ministerial dispute and an intra-party ideological dispute over what should be the most effective food security program for Brazil. It is also analyzed based on these theorists that the actors are not only linked to their interests, as they also learn over time and change political directions.
This theory found in the actors is clear when one sees the unconditional support of the political actors of the PT before winning the elections and the change of direction they took after Lula's victory and throughout 2003. Another important point is that there is no paradigm shift with learning, that is, in the case of the political agenda the paradigm continued to end hunger and inequality in the Brazilian population, but new arrangements were made and associations that come from other pre-existing or old paradigms. In this way, these theories help to understand factors neglected in other studies, such as the production of knowledge of different coalitions about food security; the competence and quality of political and non-political experts; and the dominant beliefs and representations shared by different actors, both in the public and private spheres. The debate between the different groups of the party was of great importance for the strengthening of the party and to show that a party that is cohesive and with a more solid formation can work together and with divergent ideas. In this debate between coalitions, there are the main actors, as mentioned in this chapter, but behind these actors were the different groups that had their preferences and supported certain ideas.
More on
ANANIAS, Patrus. Direito à Alimentação, Assunto de Política. Disponível em: http://www.fomezero.gov.br/artigo/direito-a-alimentacao-assunto-de-politica-patrus-ananias
BETTO, Frei. A Fome como Questão Política. In: BETTO, Frei (Org.). Fome Zero: textos fundamentais. Rio de Janeiro: Garamond, 2004.
HALL, P., 1993. Policy Paradigms, Social Learning and the State: The Case of Economic Policymaking in Britain. Comparative Politics, 25(3), pp.275-296. DOI: 10.2307/422246
KINGDON, J., 2003. Agendas, Alternatives, and Public Policies. New York: Harper Collins
SABATIER, P. & JANKIS-SMITH, H., 1993. Policy Change and Learning: An advocacy coalition approach. Boulder: Westview.
by Luciana Garcia de Oliveira
Master in Jewish and Arab Studies, Department of Eastern Literature, University of São Paulo (DLO-USP) and associate researcher of the Center for Jewish Studies (CEJ-USP). Responsible for translating Hannah Arendt's collection, The Jewish Writings, into Portuguese (2016). E-mail: luciana.garcia83@gmail.com 
Reviewed by Matheus Lucas Hebling
           Christian Zionism was unnoticed in Brazil until the 2018 presidential elections. The candidate for the presidency of the Republic, Jair Messias Bolsonaro, supported massively by some Pentecostal churches, by 
Igreja Universal do Reino de Deus
, by 
Assembleia de Deus
, and by 
Congregação Cristã do Brasil
, as well as politicians and bishops that constitute the so-called "Bancada Evangélica" of the Brazilian parliament, appeared on the scene amid popular demonstrations taking as central symbols Brazil's flag along with the American and Israelis flags. It was perceived, from then on, the sudden changes in speech and the direction of Brazilian politics. 
           Since the mid-1980s, there has been a gradual increase in the presence of evangelicals in public positions in the Brazilian executive and legislative branches. In general, the members of the "Bancada Evangélica" appear during the commemorative dates of the Israeli calendar and the violent cycles of the Arab-Israeli conflict. On these occasions, they usually speak out publicly in defense of the state of Israel considered by them as the "Promised Land" and in the name of the Jewish people, "the people chosen by God". 
           However, a demonstration outside Israel's religious calendar caught the attention of the Brazilian press. It was during the vote of the impeachment process of President Dilma Rousseff in the Brazilian parliament, in 2016, that the parliamentary Ronaldo Fonseca (PROS-DF), when voting for yes, complemented publicly in the microphone "yes, for the peace in Jerusalem". When asked about the relationship between Jerusalem and the political situation in Brazil, Fonseca said in an interview to the 
BBC – Brazil
 website (2016) that he manifested in support for the peace in Jerusalem because, according to him, "the Workers Party (PT) government turned back to Israel. (…) The only time a president went to the Middle East and not stepped in Israel was President Lula. President Dilma rejected an ambassador appointed by Israel just because he was a settler in Palestine, in the Gaza Strip". As can be seen, the Zionist Christians' unconditional defense to the state of Israel occurs because they consider Israel as the Christians' second homeland. Many believe that the nation will be blessed if there is religious and political support to Israel. 
           Before Bolsonaro won the elections in Brazil, there was an intense mobilization of evangelical parliamentarians with some Israeli politicians to put into practice an old desire for changes in the Brazilian foreign policy. According to the Christian Zionist base, the changes in Brazil's international relations should establish greater political engagement in the Israeli cause. These changes would be reflected in the plan to transfer the Brazilian embassy in Israel, from the city of 
Tel Aviv
 to the city of Jerusalem. The transfer of the Brazilian embassy was one of the most prominent promises of Jair Bolsonaro's presidential campaign. 
           Still in 2016, as parliamentary, Bolsonaro was in Israel, he met some Israeli parliamentarians and visited the Ministry of Agriculture. There, Bolsonaro celebrated the impeachment of Brazilian President Dilma Rousseff. In a video shared on social networks, he stated that it was time for the Brazilian government to approach other countries and to abandon international relations based on political and ideological aspects. 
           When elected in 2019, he made his first official trip to Israel as president of Brazil. At first, Bolsonaro aimed to fulfill his campaign promise to transfer Brazil's embassy to Jerusalem. However, at that time, the Brazilian government was already under pressure from Arab countries that import Brazilian products. In December of the same year, the countries of the Arab League sent a letter to the President of Brazil, stating that this measure could harm Brazil's relations with the Arab countries, especially about beef exports. The statement from the Arab League had an important impact since Brazil is considered the largest exporter of beef to the Arab and Islamic world. 
           Faced with political and economic pressures, in Israel, the Brazilian representative, instead of transferring the Brazilian embassy, decided to open a commercial office in Jerusalem without diplomatic status. This same measure had already been adopted by two countries governed by the extreme populist right: Hungary of Viktor Orbán and the Czech Republic of Milos Zeman. Despite Bolsonaro did not fully fulfill his initial promise, the opening of a Brazilian office in Jerusalem is considered the first step towards moving the embassy to the city and thus recognizing, in fact, the city of Jerusalem as the indivisible capital of the state of Israel. 
           The presence of the Brazilian government in Israel was repudiated by some representatives of the Palestinian people. The 
Hamas
 group sent a statement to the Brazilian government condemning the president of Brazil's visit to the "Israeli occupation" to contradict Brazil's historical relations with the Palestinian people. The 
Hamas
 letter generated reactions in the Brazilian government. Impulsively, the parliamentary and son of the president of Brazil, Flavio Bolsonaro, wrote in his 
Twitter
 account: "I want 
Hamas
 to explode!". 
           East Jerusalem is historically claimed as the capital of a future Palestinian state. If the transfer of diplomatic representation were fully materialized, Brazil would be the third country in the world to officially recognize the city of Jerusalem as the capital of the state of Israel, after the United States of Donald Trump and Guatemala of Jimmy Morales. 
           In addition to the Palestinian question, Jerusalem is considered the second most sacred city for Muslims. According to what is professed by Islam, it was at the 
Al Aqsa
 mosque in Jerusalem that the prophet Mohammad was led by a miracle of God (
Allah
) and from where he ascended to heaven. 
           Brazilian Pentecostalism comes from Anglo-Saxon Protestantism. The fundamentalist Christian movement started in the United States in 1910. However, according to the professor of the Universidade Estadual de São Leopoldo, Wilhelm Wachholz, and the researcher André Daniel Reinke (2020), it was around 1925 that "the fundamentalists started to expand what they defined as fundamentals of faith for secondary questions, involving campaigns against evolutionism, communism and ecumenism" (p. 259). 
           The popularization of Zionist Christianity occurred in 1967, after Israel's overwhelming victory over the Arab states in the war known popularly as the "Six-Day War". Many American Protestants interpret the June war of 1967 as a miraculous victory in the battle of David against Goliath. Zionist Christians have unconditionally defended the state of Israel since the mid-1970s. And, the political and religious support, over time, has reverted to huge remittances of money and weapons to the Israeli Defense Force (IDF). In addition to political pressure, by Israel's lobby at the American parliament, around a more favorable foreign policy to Israeli interests and, in opposition to the Arabs. 
           In Brazil, the support of Pentecostal Zionist groups to the Israeli doctrines strengthened and advanced the Brazilian's borders. In the mid-1990s, some Brazilian Pentecostal churches such as the 
Igreja Universal do Reino de Deus
 and the 
Congregação Cristã do Brasil
, settled in Israel. These growing affinities between Brazilians and Israelis increased religious tourism and the degree of political support for the Israeli state. 
           On the other hand, the militancy for a missionary, conservative and right-wing Israel represents only one Israeli sector, among others, intentionally concealed by followers of the Christian Zionism doctrine. The bishops and devotees of the Brazilian Pentecostal churches, according to the professor of History from the 
Universidade Federal Fluminense
 (UFF), Michel Gherman (2020), "produce an imaginary Jew and, at the same time, also produces an imaginary Israel" and that does not correspond with the reality of Israel and the Israeli and Jewish communities of the Diaspora. These Pentecostal sectors are not interested in a state of Israel that houses one of the largest gay parades in the world, which has legalized the use of cannabis and has decriminalized abortion.  
           The adherents and supporters of Christian Zionism Pentecostalism tend not to consider left-wing Jews as real Jews. The Brazilian extremist movement, reflected in the personality of Jair Bolsonaro, aims absolutely to associate Judaism and Israel with religious fundamentalism, colonialism, militarism, imperialism, and racism. And, inevitably, the sectors of the extreme right appropriated the Israeli flag and, in the same way, the colors of the Brazilian flag. 
           While Israeli sectors, honored by Brazilian Pentecostal Christians, persecute, discriminate and murder the Palestinian people in the occupied territories. In Brazil, many intolerance religious crimes against the devotees and the African temples are mostly promoted by Zionist Christians. According to an article published on the 
Brasil de Fato
 website (2020), "only in the first half of 2019, there was a 56% increase in the number of complaints of religious intolerance". Most of the reports were made by practitioners and followers of the African religions. 
           The "imaginary Brazil" of Bolsonaro and the Zionist Christians is perverse, extremist, moralistic, and racist. And, in no way matches the real Brazil of ethnic and cultural plurality. It will be up to us to decide which Brazil will survive. 
REFERENCES: 
Barrucho, Luís (2016). "Falei para chamar a atenção", diz deputado ao justificar o voto pela paz em Jerusalém. BBC – Brasil, disponível em: 
https://www.bbc.com/portuguese/noticias/2016/04/160420_entrevista_ronaldo_fonseca_paz_jerusalem_lgb. 
Gherman, Michel (2009). Deus e o Diabo na Terra Santa. WebMosaica – Revista do Instituto Cultural Judaico Marc Chagall, v.1, nº 1, pp. 56-71. 
Gherman, Michel (2020). Quando a nova esquerda e a nova direita encontram o Israel imaginário, no Brasil. Instituto Brasil-Israel, disponível em: 
http://institutobrasilisrael.org/colunistas/michel-gherman/geral/quando-a-nova-esquerda-e-a-nova-direita-encontram-o-israel-imaginario-no-brasil. 
Hamas repudia visita de Bolsonaro a Israel e pede "retratação" (2019). Revista Exame, disponível em: https://exame.com/mundo/hamas-repudia-visita-de-bolsonaro-a-israel/. 
Souza, Marina Duarte de (2020). Denúncias de intolerância religiosa aumentaram 56% no Brasil em 2019. Brasil de Fato, dia 21 de janeiro de 2020, disponível em: https://www.brasildefato.com.br/2020/01/21/denuncias-de-intolerancia-religiosa-aumentaram-56-no-brasil-em-2019. 
Wachholz, Wilhelm e Reinke, André Daniel (2020). "Pela paz de Jerusalém". A origem do sionismo cristão, sua influência na igreja protestante brasileira e sua atuação no congresso nacional. Revista Brasileira de História das Religiões. ANPUH, ano XIII, nº 37, pp. 253-273.
The Brazilian Research and Studies Blog (BRaS Blog) provides a space for researchers and students with a focus on Brazil to publish their research and opinions to a broader audience. We have an interdisciplinary outlook integrating human, social, and applied social sciences. We welcome opinion articles, essays, research excerpts, or summaries with a research focus on Brazil. The BRaS Blog's purpose is to open room for debate about academic thematic with a more accessible approach. The aim is to present scientific discussions about Brazil favoring the democratization of knowledge access. Our blog publishes contributions around 1000 to 1300 words, besides the references, and in English (in extraordinary cases, texts in Portuguese will also be accepted). BRaS Academic Committee will evaluate the submissions, which will be freely available on the BRaS website.